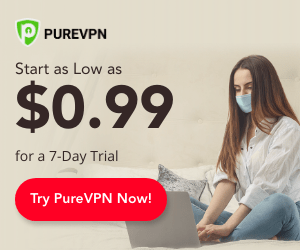 With Exodus and Covenant being down and no sign of them coming online anytime soon, many are choosing to install Placenta on Kodi as an alternative. Placenta is a working exodus fork that was developed to include a lot of extra featured that I will cover later on in the article.
This addon has gained It popularity for being easy to use and also packs a lot of useful additional features compared to the other video addons. Before i go over whats featured in this addon, first I will show you a step-by-step guide on how to install Placenta on Kodi Krypton 17.
Before We Start
As you are probably aware, your Internet Service Provider (ISP) knows everything you see online. To keep yourself anonymous and protect you from unwanted people seeing your online information, I highly recommend you use a VPN.
You can get PureVPN today for as little as $2.87 a month. Not only does PureVPN protect your privacy online, you can also use it on maximum of 5 devices at any given time. Some of the other benefits of PureVPN are:
Unlimited Bandwidth
Anonymous Browsing
Defeat ISP Throttling
256 Bit Encryption
P2P Protection
Dedicated Streaming Servers
5 Multi-Logins Per Household
750 Servers in 140+ Countries
24-hour live chat support
Split Tunneling
DDoS Protection
Internet Kill Switch
Dedicated IP
Ad Blocking
IP Address Masking
7 Days Money Back Guarantee
How To Install Placenta Addon On Kodi 2018 | Working Method
If you ever installed an addon on Kodi you know how easy and straight forward the whole process is. Here we are going to install Placenta on Kodi by using its official URL.
There are 3 main stages to the installation process which are:
Activate downloads from unknown sources
Set up the MR Blamo repository file source
Download and set up the MR Blamo repository
Install the Placenta Addon
If you are ready, launch Kodi and let's begin:
Step 1: To start off you need to go into Kodi's system configuration by clicking on the small gear icon on the top left hand of the screen.
Step 2: Here make sure you click on the the System Settings folder.
Step 3: You will see a list of options on the left. Scroll down to addons and enable Unknown Sources. This option needs to be enabled in order for you to complete the installation process.
Step 4: Now jump back into system and enter into File Manager so that you can set up the MR Blamo Repository file source.
Step 5: Scroll down and click on add Source
Step 6: You will see a the Add File Source Box appear on your screen. Here make sure you click on the <None> option.
Step 7: Enter the official MR Blamo Repository URL and press ok | http://repo.mrblamo.xyz/
Step 8: Name it MR BLAMO and press ok. You will need to find this file later on so make sure you give it a memorable name.
Step 9: Now you have the file source set up its time to install the repository. Go back to the Kodi home screen select addons and click on the tiny package icon on the top left of your screen.
Step 10: In the addon browser scroll down and click on Install From Zip File.
Step 11: Select the file source folder you made earlier in step 8.
Step 12: Inside this folder click on the repository.blamo-0.1.1.zip. This will start the download.
Step 13: Once successful you will see a notification appear telling you that the MR Blamo Repository was successfully installed. Nice job you have just completed installing the MR Blamo Repository now lets move to the next phase, installing the Placenta Addon.
Step 14: Go back into addon browser and click on Install From Repository.
Step 15: Scroll down until you find the MR Blamo repository and click on it.
Step 16: You will now see long list of addon categories to choose from. Choose the video addon category.
Step 17: Find and click on the Placenta addon.
Step 18: You will come to the addon's information page, click on the install button at the bottom right to start installing the addon.
Step 19: Great job! You have just successfully installed Placenta addon on Kodi. Now you can enjoy all your favorite movies and TV shows.
In the next section I go over what makes this addon standout from the rest.
Placenta Kodi Addon Review
Looking at the Placenta interface you quickly realize how similar it looks to exodus. What makes it different is a handful of useful additions that work to improve the overall experience when using this addon. Lets look at a few of the exiting features.
Reviews / Trailers
To help you decide on which movie to watch, the Review and Trailer feature of this addon allows you to view the trailer first. This is an awesome feature if you want to know more about a movie or if you want to check out movie trailers for upcoming releases.
Trending
Similar to most popular, this category lets you see which movies are currently trending on placenta. This will come in handy if you are stuck deciding which movie to watch or you want to know what the latest viewing trend is on Kodi.
Fitness Zone
Its not always you find a Kodi addon that can provide you entertainment and keep you fit at the same time. In fitness zone you will find a wide range of fitness programs from zumba to pilates which you can follow at your own pace. This addon lets you work out in the comfort of your own living room.
Settings
Unlike other movie addons on Kodi, the options available in the setting menu is the most extensive I have ever seen on a kodi app. Great  extra bit of functionality if you ever want to tweak how media is played on the addon.
These are only a few great things you will find in this addon. Dont forget that you also have MR Blamo repository installed on Kodi. In the next section I look at what kodi goodness this repository has to offer.
Blamo Repository Review
The fun doesn't stop once you have installed the Placenta addon because its now time to discover all the other great add-ons bundled in the MR Blamo repository. Here are a few addons worth mentioning.
Neptune Rising
For those who dont know, Neptune Rising is an Exodus fork. Just like exodus you will find a lot of great movies and live TV streams here.
Chocolate Salty Balls
If you are a fan of adult cartoons you will fall in love with the Chocolate Salty Balls addon. You can find all the latest episodes of your favorite adult cartoons listed in this addon most of which are HD Quality. It's time to treat your inner child.
F4M Tester
Ever wonder how add-ons are able to stream live sports without the stream lagging or buffering? The answer is they use the F4M tester to help them stream flawlessly.
Good Alternative Repositories Worth Checking Out
There are hundreds of repositories out there to choose from making it hard for you to decide which one to install. Having a reliable repository installed on Kodi means that you don't have to spend hours finding a working link to install because the developers are good at keeping the links up to date.
Here are a few that are known to be reliable and have a huge list of great video, music and program add-ons to choose from:
SuperRepo
SupperRepo is known to be one of the best repositories out there for Kodi. Any addon that exist for Kodi there is a high chance you will find it in this repository.  If you want to try SuperRepo for yourself you can follow our SuperRepo Installation Guide.
Bubbles
This repository is perfect if you are looking for an alternative for the Exodus/Covenant addon. In this repository you will find the bubbles video addon which is great for watching HD movies and TV series. You can install this addon by following our Bubbles Repository Installation Tutorial.
I hope you found this guide useful. Please check out check out our other guides for Kodi available on this site.
Disclaimer: Kodiclub.com is not associated in any way to the official Kodi App. We do not condone, promote or host copyrighted material on our website. Please ensure you check your local laws to make sure you are not doing anything illegal. Our guides are to show you how to use Kodi to view material you have already purchased and have the rights for.