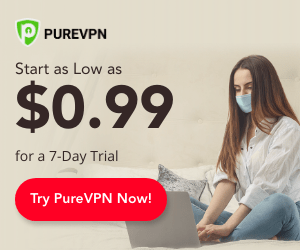 If you have been using Kodi for a while then you have probably been lucky enough to used great video addons of the past such as Exodus and Covenant. Not only did these addons offer a wide range of high quality movies to choose from, they were also really easy to use. Unfortunately like any good video addon on Kodi, they don't last forever and have since been taken down.
But I have some good news for all covenant lovers out there, Incursion is a new Covenant fork that has recently been developed and it works exactly like the old addon did.
In this guide I will show you how to install Incursion On Kodi using a simple step-by-step method.
Before We Begin
As you are probably aware, your Internet Service Provider (ISP) can track all your online activity, which means everything you do whilst using Kodi.
To keep yourself anonymous online and protect your privacy I highly recommend you use a VPN.
I personally use PureVPN and you can to for as little as $2.87 a month. Not only does PureVPN protect your privacy online, you can also use it on a maximum of 5 devices at any given time. Which is ideal if you use Kodi on both your android box and laptop. Some of the other benefits of PureVPN are:
Unlimited Bandwidth
Anonymous Browsing
P2P Protection
Dedicated Streaming Servers
5 Multi-Logins Per Household
750 Servers in 140+ Countries
24-hour live chat support
Internet Kill Switch
Dedicated IP
Ad Blocking
IP Address Masking
7 Days Money Back Guarantee
How to Install Incursion On Kodi | Step By Step Guide
Installing the Incursion Addon on Kodi is really simple and shouldn't take more than 10 minutes if you follow the steps i show you below. To give you and idea of the process, to complete the installation there are 4 main phases that we will complete which are:
Activate unknown sources
Set up the Incursion repository file source
Install the Incursion Repository Zip File
Download and install the Incursion Video Addon
If you are ready, launch kodi and lets start.
Step 1: At the Kodi home screen click on the small gear icon at the top left to access the System page.
Step 2: Click on System Settings.
Step 3: Scroll down until you get to addons and on the right activate the Unknown Sources option. You need to have this activated in order for you to install addons from third party developers.
Step 4: Now go back to the System page and click on the File Manager option.
Step 5: Here scroll to the bottom and select Add Source.
Step 6: Once you see a box pop up, click on <None>.
Step 7: Now enter the official Incursion Repository URL http://incursion.kodi.expert/.
Step 8: Give the file source a name that you can remember as you will have to find it later on. For this example I have named it Incursion Repo.
Step 9: Once that is done, go back to the Kodi homescreen and click on addons. In addons click on the small package Icon on the top left side of the screen.
Step 10: Now choose the Install from Zip File option.
Step 11: Here find the addon the Incursion Repo file you created in step 8.
Step 12: Now click on the incursion.repository-0.0.3 zip file. Now Kodi will start installing the Incursion repository.
Step 13: Once the installation was successful you will see a pop up appear on the top right.
Step 14: Now in the Addon Browser page, click on the Install From Repository option.
Step 15: Find the Incursion Repository and click on it.
Step 16: To continue choose the Video Addons option.
Step 17: Select the Incursion Video Addon.
Step 18: You will now see the addon information page. To install this addon, click on the install button at the bottom right of the screen.
Step 19: If everything was done correctly you will now see a message come up of the top right stating that the addon has been installed successfully.
Nice job! You have successfully installed the Incursion video addon on Kodi. Now lets look at what this amazing addon has in store for you.
Incursion Kodi Addon Review
Like I said before Incursion is a fork of the legendary video addon Covenant. So if you enjoyed using Covenant then you will find yourself right at home when using Incursion. This simple to use video addons features an array of useful video categories to choose from which are:
Movies
TV Shows
My Movies
My TV Shows
New Movies
New Episodes
Channels
Want to satisfy all of your movie cravings? You will find that the Movie option does a great job of doing so. As you can see in the picture below, this addon does comes with some exciting categories that will help you find the movie you want to watch in just a few clicks.
One of these options that really stood out to me was the Most Popular option. If you are like me and cant make a decision on which movie to watch then you will love this option. The addon lists all the movies people are watching from the most popular to the least popular. With this option you will never miss a trending movie ever again on Kodi.
Hope you found this how to install incursion on Kodi guide useful. If you are worried about your Internet Provider knowing what you watch on Kodi then its probably time that you start using a VPN.
A VPN protects you from other people knowing what you do online by encrypting all the internet traffic that goes in and out of your house making it impossible for any third party from knowing what you are watching on Kodi. To learn more about how a VPN can protect your online privacy you can visit the PureVPN website.