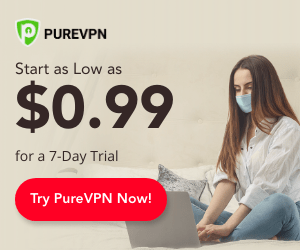 If you have been trying to install Colossus Repository on Kodi recently you probably found that none of the file source URL's are working. This is because the Colossus Repo is down as it was officially taken down in November 2017.
In this guide we will show you a working method of how to install Colossus Repo on Kodi by manually downloading and installing the Zip file from the official Colossus Repo GitHub Page.
Stay Protected While Streaming On Kodi By Using a VPN
As you are probably aware, your Internet Service Provider (ISP) knows everything you see online. To keep yourself anonymous and protect you from unwanted people seeing your online information, I highly recommend you start using a VPN.
I personally use PureVPN to protect my privacy whilst streaming on Kodi. Not only does PureVPN make sure all of the internet traffic coming in and out of my house is encrypted, I can also use it on maximum of 5 devices at any given time which is great whenever I decide to use my laptop to stream Kodi on the go. Some of the other benefits of using PureVPN are:
Unlimited Bandwidth
Anonymous Browsing
Defeat ISP Throttling
256 Bit Encryption
IP Address Masking
7 Days Money Back Guarantee
With the current legal changes happening surrounding online streaming its a good idea that you start using a VPN to make sure you stay on safe side.
How To Install Colossus Repo On Kodi Krypton 17
There are two main parts to this installation guide. In the first part we will show you where to find and download the up to date Colossus Zip File.
The second part of this tutorial will demonstrate how you can install the repository manually in Kodi. To begin the first step open your internet browser.
Step 1: For this example I am using the Google Chrome browser. Once you have google chrome open navigate to the official colossus repository GitHub page.
Step 2: Once you are on the page, scroll down to the Repository.Colossus folder. and click on it.
Step 3: In that folder you will see 5 options to choose from. Select the repository.colossus-999.999.9 file.
Step 4: You will now be brought to a new page. Click on the download button to download the zip file to your local drive.
Step 5: Once downloaded you can now move the zip file to a dedicated folder that is easy to find and remember.
This is because you will need to find it later on in the installation process. If you are having trouble finding the Zip file, it can be usually found in the downloads folder located on your C drive.
Step 6: Now to install the Colossus Repo, launch Kodi and click on the small gear icon on the top left hand of the screen.
Step 7: Here go to system settings
Step 8: Scroll down to addons and enable downloads from unknown sources. For you to be able to install the repository successfully you must first enable this option.
Step 9: Once you click the slider to enable this option, a message will pop up. Press yes to continue.
Step 10: Its time to install the Colossus Repo. To start go to addons on the homepage and click on the small package icon on the top left hand side of the screen to access the addon browser.
Step 11: Once inside click on the install from Zip File option.
Step 12: As I mentioned before you will be installing this addon manually from your local drive. So its time to find the folder that you saved the zip file to earlier. For this example I stored my file in a folder located on my desktop.
Step 13: Now navigate to the folder that contains the repository.colossus-999.999.9.zip file and click on it.
Step 14: Colossus Repo will start installing on Kodi. Once completed you will see a notification pop up on your screen showing you that the installation process was complete.
Congratulations, you have just completed installing Colossus repo. Now you can start enjoying all the great addons this repo has to offer.
The reason why Colossus repository was so popular before it went down was because it is one of the first repositories to include the Covenant movie addon. Apart from Covenant, you will find a wide range of other useful addons such as:
Indigo
Death Streams
Live Stream Pros
Sportie
Sports Devil
Ultimate IPTV
TVAddons.Co
If you want to see for yourself what else this amazing repository has to offer, lets look at how we can install addons using the colossus repository.
How To Install Addons Using Colossus Repository
Step 1: Go back into the addon browser and select install from Repository option.
Step 2: Once here scroll down until you find the Colossus Repository and click on it.
Step 3: Here you will be able to choose from different options such as Addon Repository, Look and Feel, Program addons, Services and Video Addons. For those looking to install Covenant, you can find it in the video addons section.
Step 4: Now you can choose which video addon you would like to install. After installing the video addon, you can find them in the video addon section in add-ons.
In addition to all the amazing addons available in this repository, you can also install the TVaddons.co repository using colossus. In TVaddons you will find a few really useful apps like Plexus and Indigo maintenance tool.
Since colossus and many other repositories were taken down last November, its hard to find a reliable source that offer up to date and working add-ons. If you are currently looking for a new up to date addons that work then its worth trying out these following addons:
I hope you found this how to install Colossus repository on Kodi tutorial useful. Like any repository Kodi, over time there is always a possibility that the method stops working. If this is the case, then its best to start using an alternative addon that works.