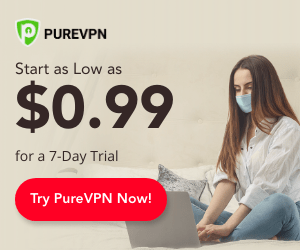 Looking for a great anime addon for Kodi that has all the latest episodes of your favorite show? Look no further because Squad Control is an amazing video addon that contains all the latest and greatest anime shows for you to enjoy.
In this guide I will show you how to install Squad Control on Kodi using the MR Blamo Repository. I have also included a little review at the bottom if you want a sneak peek of what this addon has to offer before installing it.
Before We Begin
As you are probably aware, your Internet Service Provider (ISP) can track everything you are doing online.
If you have ever wondered if there is a way to protect your online privacy the answer is yes, by using a VPN. If you don't have a VPN installed then I highly recommend you start using one.
I personally use PureVPN and you can to for as little as $2.87 a month. Not only does PureVPN protect your privacy online, you can also use it on a maximum of 5 devices at any given time. Some of the other benefits of PureVPN are:
Unlimited Bandwidth
Anonymous Browsing
Defeat ISP Throttling
Dedicated Streaming Servers
5 Multi-Logins Per Household
750 Servers in 140+ Countries
24-hour live chat support
Internet Kill Switch
Dedicated IP
Ad Blocking
IP Address Masking
7 Days Money Back Guarantee
How To Install Squad Control On Kodi | Step-By-Step Guide
Installing an addon on Kodi is really easy and straight forward. Once you are ready, just start Kodi up and lets begin.
Step 1: At the Kodi start screen, click on the small gear icon on the top left to go to the System page.
Step 2: Now click on the System Settings option.
Step 3: Scroll down to addons and click and activate Unknown Sources. This option needs to be activated in order for you to install addons from third party sources.
Step 4: Now go back to the systems page and click on the File Manager option.
Step 5: Scroll down and click on the Add Source option.
Step 6: Click on the <None> option.
Step 7: Now enter the Mr Blamo official URL: http://repo.mrblamo.xyz/
Step 8: Name it MR Blamo Repo to make it easy to find later on.
Step 9: Now you have the File Source set up, go to addons and click on the small Gear Icon on the top left. This will bring you to the addon browser.
Step 10: Scroll down and select the Install From Zip File option
Step 11:  Find the Mr Blamo Repo file and click on it.
Step 12:  Now click the repository.blamo-0.1.3.zip file to start the installation process.
Step 13: Once this is done you will see a pop up come up on the top right hand of the screen saying that the installation process has been successful.
Step 14: It's time to install the Squad Control addon. Now go back to the Addon Bowser Screen and select Install From Repository.
Step 15: Find and select the Blamo Repo.
Step 16: Scroll down and click on Video Addons.
Step 17: Find the Squad Control video addon and click on it.
Step 18: You will now be taken to the addons installation page. Click on the install button at the bottom right hand side of the screen to start the installation process.
Step 19: If it was done correctly, you will see a notification come up telling you that the addon was installed.
Nice job! you have now successfully installed Squad Control addon on Kodi. You can now dive in straight away and enjoy countless hours of anime from the comfort of your home. Below I look at all the features that make this addon great.
Squad Control Kodi Addon Review
If you are an anime fan, you know how hard it is finding a working and reliable addon for Kodi. So you can imagine how excited I was when I came across Squad Control. Whe you go into this addon you will see a few options that stand out from the usual options you find in previous anime addons.
Here are all the options that you can choose from:
50 Latest Releases
Today's Pick
Most Popular
Genres
Dubbed Anime
Subbed Anime
Cartoons
Movies
Ova Series
Search
Settings
Looking at the options quickly you can see how this addon can help you save time when choosing what anime to watch next.
The most popular option allows you to see which anime is currently trending amongst the Kodi Community. This is a good option if you want to discover great new anime to watch without having to surf the internet for hours just to find out what everyone else is watching.
Before you were forced to watch Dubbed anime but with Squad Control you are given a choice between the Dubbed Version or Subbed Version, which I think is great if you are a person that doesn't want to ruin the authentic Japanese anime experience.
If you wanted to take a break from all the Japanese animated goodness you can find some great American classics to enjoy in the Cartoons section. Also the developers did an amazing job including a lot of the popular animated movies in the movies section, for when you feel like reliving your childhood.
I hope this How to install Squad Control on Kodi guide was beneficial. If you ever wanted to remain anonymous while using third party Kodi addons you can do so by using a VPN. I personally use PureVPN for all of my devices when im using Kodi. To learn more about the benefits of using a VPN you can do so by checking the PureVPN website.