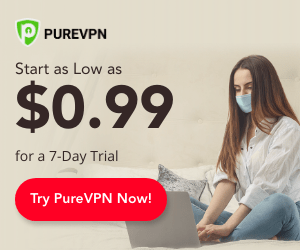 The Maverick TV Kodi addon is an amazing live TV addon that allows you to watch everything from live sport, live TV and movies all by using one simple to use addon. In addition to this, there are over 20 video and live tv options to choose from which will keep you entertained for hours.
Like all third party addons on Kodi, there will be some instances where links and live streams are not working but overall you will find that most of the links are fine. This guide will show you an easy to follow step-by-step guide on how to install Maverick TV Kodi addon so that you can start enjoying it as quick as possible.
Before We Begin
If you ever wanted to keep your online activity private whilst using Kodi then I highly recommend you start using a VPN. By using a VPN you can hide all your internet activity from your internet service provider and remain anonymous online.
I personally use PureVPN to protect my online privacy and you can to for as little as $2.87 per month. Another great thing about PureVPN is that you can use it on up to 5 devices at any given time. Some of the other benefits of PureVPN are:
Unlimited Bandwidth
Anonymous Browsing
P2P Protection
Dedicated Streaming Servers
5 Multi-Logins Per Household
750 Servers in 140+ Countries
24-hour live chat support
Internet Kill Switch
Dedicated IP
Ad Blocking
IP Address Masking
7 Days Money Back Guarantee
­­How to install Maverick TV on Kodi | Step-by-Step guide
If you ever installed an addon before you already know how easy and fast the process is. The whole process can be broken down into 4 main phases which are.
Activate unknown sources
Setup the Maverick TV file source
Download & install the Maverick TV repository
Install the Maverick TV addon
Now that you have a rough idea of whats going to be done in this tutorial, once you are ready launch Kodi and lets begin.
Step 1: To start off, select the small gear icon on the top left side of the Kodi homescreen. This will bring you to the Kodi systems page.
Step 2: Now click on System Settings.
Step 3: Scroll down to addons and activate Unknown Sources.
Step 4: Go back to the system page and click on File manager.
Step 5: Go to the bottom and select Add Source.
Step 6: The add file source box will appear. Now double click on <None>.
Step 7: Copy & paste or type in the official URL into the box: http://mavericktv.net/mavrepo/
Step 8: To make easier to find later on name it Mav Repo or any other name that you can easily remember.
Step 9: Now you have set up the Maverick TV file source it's time to install the repository. Go back to the Kodi homepage and click on addons. Now click on the small box icon on the top left of the screen.
Step 10: Once you are in the addon browser, select the Install From Zip File option.
Step 11: Here click on the Mav Repo file source you made in step 8.
Step 12: To start the installation process click on repository.maverickrepo-3.1.zip
Step 13: Now a pop up will appear on the top right hand side of the screen telling you that the repository was successfully installed.
Step 14: Go back to the addon browser page and select Install From Repository.
Step 15: Now choose the MaverickTV Repo.
Step 16: Scroll down to video addons.
Step 17: Find and select Maverick TV
Step 18: Now you will see the addon information page show up. Click on the install button located at the bottom right of the screen.
Step 19: If you have done it correctly you will see a pop up appear telling you that the installation was successful.
Great work! You have successfully installed the Maverick TV addon on Kodi. Now you can start enjoying endless hours of movies and live TV. If you want a glimpse of what this addon has in store, you can find out more about this addon in the review section below.
Maverick TV Addon Review
The main attraction that earned Maverick TV a place in the Kodi addon hall of fame is the huge selection of live TV options that the addon allows you to choose from. This addon allows you to select from live sports, IPTV, World IPTV and live webcams. Here is a list of all the video categories you can choose from:
Latest Movies & Showes At The Flix
Maverick 4K UHD Movies
Real Debrid full HD Movies
Maverick Movies
Maverick TV Box Set
Maverick Sports
Maverick Live Sports
New Movie Releases
Maverick 24/7 Movies and TV Shows
Maverick IPTV Extra
World IPTV
The Comedians (18+)
Klassik Kids TV
Documentaries
Paragon Music
The Jukebox
Live In Concert
Music TV
UK Radio Stations
Nasa Live TV
Live Web Cams
Bloopers Reel
You Tube
Test Area
For those who enjoy stand-up comedy then you are in for a treat as The Comedians (18+) option contains a huge mix of new stand up and all time classics.
Another cool option is Nasa Live TV. I tried this out just to see what it was and in a few seconds I could see the earth from space which it's pretty cool if you ever wanted to know what earth looked like from the outside.
Even if you just wanted to kick back and listen to some music you could do so by choosing The Juke Box, Paragon Music and Live in Concert option.
I hope this how to Install Maverick TV Kodi Addon guide has helped you install Maverick TV on Kodi. If you ever felt uncomfortable that your ISP knows what you are watching on Kodi then I suggest you protect your privacy by using a VPN.
Not only does a VPN encrypt all the internet traffic going in and out of your house, it also allows to change you IP address so you can make it look like you are accessing Kodi from a different geographical location. These are only a few of the benefits of using a VPN, to learn more about how PureVPN can keep your internet privacy safe you can visit the PureVPN website.